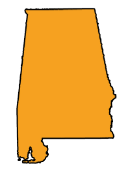 National Safety Training offers the University of South Florida OSHA Outreach training courses that are accepted nationwide and throughout the state of Alabama. The OSHA 10 hour training and OSHA 30 hour training courses below can be taken for all workers in Alabama that need OSHA Outreach 10 hour or 30 hour cards. In addition, if you relocate to another state, the same card will be honored there.
Get Started Today
100% online — Available 24/7
Work at your own pace
Receive your official 10 or 30-Hour Department of Labor Card
Alabama OSHA Training Information
In Alabama, there is no state agency in charge of OSHA training and compliance. Federal OSHA is in charge of regulating OSHA training.
Our website offers federal OSHA Outreach 10 hour and 30 hour online courses that upon successful completion will result in an official US Department of Labor 10 hour or 30 hour card being issued to you. OSHA cards are sent via US mail within 4 to 8 weeks of successful completion of the 10 hour or 30 hour course.
Some companies require their employees to take OSHA training in order to be qualified to perform certain duties.