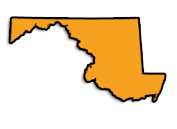 National Safety Training offers the University of South Florida OSHA Outreach training courses that are accepted nationwide and throughout the state of Maryland. The OSHA 10 hour training and OSHA 30 hour training courses below can be taken for all workers in Maryland that need OSHA Outreach 10 hour or 30 hour cards. In addition, if you relocate to another state, the same card will be honored there.
Get Started Today
100% online — Available 24/7
Work at your own pace
Receive your official 10 or 30-Hour Department of Labor Card
Maryland OSHA Training Information
The state of Maryland, under agreement with OSHA, operates an occupational safety and health program in accordance with Section 18 of the Occupational Safety and Health Act of 1970.
The Maryland Occupational Safety and Health Program (MOSH) is part of the Maryland Division of Labor and Industry. Ron DeJuliis is currently Commissioner of Labor and Industry. Maryland OSHA is headquartered in Baltimore, Maryland and has field offices in Easton, Belair, Laurel, Baltimore, and Hagerstown.
MOSH has jurisdiction over all public and private sector places of employment in the state of Maryland, with the exception of federal employees, the United States Postal Service, private sector maritime activities (shipyard employment, marine terminals, and longshoring), and military bases, which are subject to federal jurisdiction.
Regulations and Standards
In order to avoid duplication of regulatory requirements and facilitate compliance by Maryland employers, MOSH has adopted the Federal Occupational Safety and Health Standards contained in Title 29 Code of Federal Regulations Part 1910 (General Industry), Title 29 Code of Federal Regulations Part 1926 (Construction), and Title 29 Code of Federal Regulations Part 1928 (Agriculture). In addition to these federal standards, MOSH has adopted several regulations that are unique to Maryland.