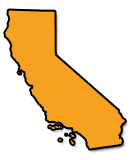 National Safety Training offers the University of South Florida OSHA Outreach training courses that are accepted nationwide and throughout the state of California. The OSHA 10 hour training and OSHA 30 hour training courses below can be taken for all workers in California that need OSHA Outreach 10 hour or 30 hour cards. In addition, if you relocate to another state, the same card will be honored there.
Get Started Today
100% online — Available 24/7
Work at your own pace
Receive your official 10 or 30-Hour Department of Labor Card
10-Hour Construction Training
30-Hour Construction Training
10-Hour General Industry Training
30-Hour General Industry Training
California OSHA Training Information - CAL OSHA
The State of California, under an agreement with OSHA, operates an occupational safety and health program in accordance with Section 18 of the Occupational Safety and Health Act of 1970. The Department of Industrial Relations administers the California Occupational Safety and Health Program, commonly referred to as Cal/OSHA.
The Division of Occupational Safety and Health (DOSH) is the principal executor of the plan which oversees enforcement and consultation.
In addition, the program has an independent Standards Board responsible for the promulgation of state safety and health standards and the review of variances; an Appeals Board to adjudicate contested citations; and the Division of Labor Standards Enforcement to investigate complaints alleging discriminatory retaliation in the workplace.
Jurisdiction
The California State Plan applies to all public and private sector places of employment in the state, with the exception of Federal employees, the United States Postal Service (USPS), private sector employers on Native American lands, maritime activities on the navigable waterways of the United States, private contractors working on land designated as exclusive Federal jurisdiction, and employers that require Federal security clearances. See 29 CFR 1952.172.
This is the only agency in the state authorized to adopt, amend or repeal occupational safety and health standards or orders. In addition, the Standards Board maintains standards for certain areas not covered by federal standards or enforcement. These latter standards apply to elevators, aerial passenger tramways, amusement rides, pressure vessels, and mine safety training.