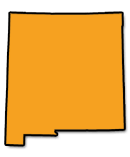 National Safety Training offers the University of South Florida OSHA Outreach training courses that are accepted nationwide and throughout the state of New Mexico. The OSHA 10 hour training and OSHA 30 hour training courses below can be taken for all workers in New Mexico that need OSHA Outreach 10 hour or 30 hour cards. In addition, if you relocate to another state, the same card will be honored there.
Get Started Today
100% online — Available 24/7
Work at your own pace
Receive your official 10 or 30-Hour Department of Labor Card
New Mexico OSHA Training Information
The State of New Mexico, under an agreement with OSHA, operates an occupational safety and health program in accordance with Section 18 of the Occupational Safety and Health Act of 1970. The New Mexico state plan was initially approved on December 10, 1975, and received state plan certification on December 4, 1984.
The New Mexico Occupational Health and Safety Bureau (OHSB) is a part of the New Mexico Environment Department, headed by the Secretary. The main office is located in Santa Fe, with satellite offices in Albuquerque and Las Cruces.
The New Mexico OHSB exercises jurisdiction for all private and public sector employers and employees throughout the State of New Mexico except for maritime industries (long shoring, ship building, and ship breaking); mining operations; Federal civilian employees; employment on military bases, Indian reservations, or areas of exclusive Federal jurisdiction; and U.S. Postal Service employees.
Regulations and Standards
States must maintain job safety and health standards that are "at least as effective" as comparable federal standards. States may promulgate standards that are more stringent than the comparable federal standards or promulgate standards covering hazards not addressed by federal standards.
New Mexico adopts amendments to incorporate federal standards, by reference. These become enforceable the date they are available on the OSHA website. New standards require a public hearing before the Environmental Improvement Board, a seven member body appointed by the Governor and empowered to adopt, modify, or repeal OHS standards and regulations.
New Mexico has adopted the following unique State standards.
Public Sector Firefighting
Convenience Stores
Field Sanitation
Short-Handled Hoes