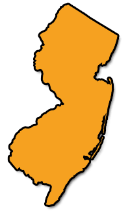 National Safety Training offers the University of South Florida OSHA Outreach training courses that are accepted nationwide and throughout the state of New Jersey. The OSHA 10 hour training and OSHA 30 hour training courses below can be taken for all workers in New Jersey that need OSHA Outreach 10 hour or 30 hour cards. In addition, if you relocate to another state, the same card will be honored there.
Get Started Today
100% online — Available 24/7
Work at your own pace
Receive your official 10 or 30-Hour Department of Labor Card
New Jersey OSHA Training Information
The Public Employee Occupational Safety and Health Program (PEOSH), is responsible for promoting the health and safety for approximately 500,000 State and Local government employees in the State. The Plan designates the New Jersey Department of Labor and Workforce Development as the State agency responsible for administering the Plan throughout the State.
Under this enabling legislation, the Commissioner of Labor and Workforce Development has full authority to enforce and administer all laws and rules protecting the safety and health of all employees of the state and its political subdivisions in the State, as well the responsibility to adopt all applicable federal standards and maintain "at least as effective" safety regulations.