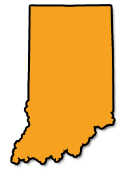 National Safety Training offers the University of South Florida OSHA Outreach training courses that are accepted nationwide and throughout the state of Indiana. The OSHA 10 hour training and OSHA 30 hour training courses below can be taken for all workers in Indiana that need OSHA Outreach 10 hour or 30 hour cards. In addition, if you relocate to another state, the same card will be honored there.
Get Started Today
100% online — Available 24/7
Work at your own pace
Receive your official 10 or 30-Hour Department of Labor Card
Indiana OSHA Training Information
The Indiana Occupational Safety and Health Administration (IOSHA) is dedicated to ensuring Hoosier workplace safety and health. To be successful, IOSHA will improve workplace safety and health for all Indiana workers by reducing hazards and exposures in the workplace environment that result in occupational injuries, illnesses, and fatalities. IOSHA works to change workplace culture to increase employer and worker awareness of, commitment to, and involvement in workplace safety and health while securing public confidence through excellence in the development and delivery of our programs and services.
The Indiana Occupational Safety and Health program is administered by the Indiana Department of Labor. IOSHA is responsible for enforcement of workplace safety and health regulations for most private and public employers. The Department of Labor is also home to INSafe which conducts consultative programs for Indiana businesses and public entities upon request.
Management of the IOSHA program is the responsibility of the Deputy Commissioner for IOSHA. The Deputy Commissioner of IOSHA is assisted by two Directors (Industry and Construction) and multiple Supervisors that handle the day to day workload.
Jurisdiction
IOSHA applies to all places of employment in the State, with the exception of Federal Government employees, the United States Postal Service (USPS), private sector maritime, and certain agricultural related operations (the field sanitation standard and temporary labor camps), which are subject to Federal OSHA jurisdiction.