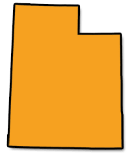 National Safety Training offers the University of South Florida OSHA Outreach training courses that are accepted nationwide and throughout the state of Utah. The OSHA Utah 10 hour training and OSHA 30 hour training courses below can be taken for all workers in Utah that need OSHA Outreach 10 hour or 30 hour cards. In addition, if you relocate to another state, the same card will be honored there.
Get Started Today
100% online — Available 24/7
Work at your own pace
Receive your official 10 or 30-Hour Department of Labor Card
Utah OSHA Training Information
The State of Utah, under agreement with OSHA, operates an occupational safety and health program in accordance with Section 18 of the Occupational Safety and Health Act of 1970. The Utah state plan was initially approved on January 10, 1973 and was granted final state plan approval on July 16, 1985.
The Utah Occupational Safety and Health Division is part of Utah's Labor Commission. There is one UOSH office that covers the entire state, centrally located in Salt Lake City.
Jurisdiction
The Utah State Plan applies to all public and private sector places of employment in the State, with the exception of Federal employees, the United States Postal Service (USPS), private sector maritime, Hill Air Force Base, Tooele Army Depot which includes the Tooele Chemical Demilitarization Facility, and certain agricultural related operations (field sanitation and temporary labor camps), which are subject to Federal OSHA jurisdiction. See 29 CFR 1952.115.
Regulations and Standards
State plans must maintain job safety and heath standards that are "at least as effective as" comparable federal standards. States may promulgate standards that are more stringent than the comparable federal standards or promulgate standards covering hazards not addressed by federal standards.
While Utah adopts most Federal standards identically, the state periodically supplements Federal standards with additional requirements. These supplements are placed in the Utah Administrative Code R614 and can be found at the Utah State Plan Website. Supplements to federal standards found in the Administrative Code.
Enforcement Plans
Utah compliance is responsible for the enforcement of the OSHA and UOSH safety and health standards. Compliance officers inspect workplaces for hazardous conditions and issue citations where violations of OSHA and UOSH regulations are found. Inspections may be the result of: regular scheduling, imminent danger reports, fatalities, accidents, employee complaints or referrals. Inspections in Utah are scheduled using Industrial Accidents data and emphasis programs. More information on enforcement in Utah can be found on the Utah State Plan web site in the UOSH Compliance section. Information can also be obtained by calling (801) 530-6901.
Voluntary and Cooperative Programs
Utah offers several voluntary and cooperative programs focused on reducing injuries, illnesses, and fatalities. Utah employers are invited to take advantage of the on-site consultation program, the Safety and Health Achievement Recognition Program (SHARP) and the Voluntary Protection Program (VVP). More detailed information on these programs can be found on the Compliance Assistance webpage.
The Utah Private Sector Consultation Program provides workplace safety and health assistance to small employers. These consultation services are offered without citations or penalties, at no cost to private sector employers with 250 Utah employees or less. The services are confidential and offered only at the employer's request. The state also provides the same services to public sector entities through the Public Sector Consultation Program. For more information about these and other services available, please contact the Consultation Manager at (801) 530-6855.
Policies and Procedures
UOSH provides guidance for its enforcement programs through "The Utah Field Operations Manual" (FOM) and the "Policy and Procedures Manual". For more information contact the UOSH Operations Manager at (801) 530-6901.
Informal Conferences and Appeals
Informal conferences are conducted in the UOSH office in an effort to settle cases proactively. Employers in Utah have thirty days to submit a written notification to the Adjudication Division of their intent to contest citations and/or penalties. Cases are assigned to an Administrative Law Judge (ALJ). Appealed decisions of the ALJ automatically move forward to the Commissioner unless the appeal is requested to be heard before the Labor Commission Appeals Board. The Labor Commission Appeals Board is composed of three members: one employer, one employee and one undefined member. Each board member is selected by the Governor and serves a six year term. No more than two members can be of the same political affiliation. Decisions by the Board are majority decisions. Appealed decisions of either the Board or the Commissioner are heard in the Utah Court of Appeals.
Other Resources
Utah compliance assistant specialists (CAS) provide a wide variety of outreach programs in English and Spanish as well as newsletters, which are also posted on the UOSH web site.